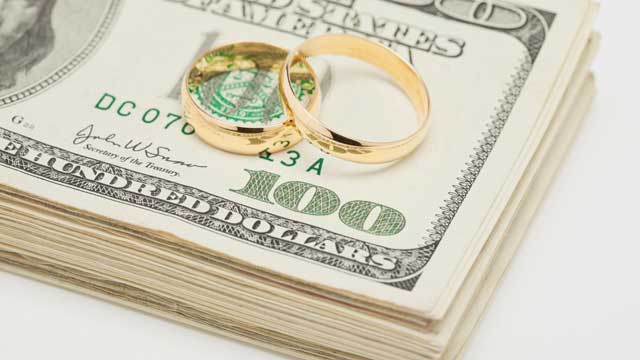 Having a wedding is one of the most exciting moments in life. However, it also tends to be one of the most expensive as well. Even though its a large investment, throwing a memorable and enjoyable wedding is always worth it. To help make life easier on you, we've compiled a list of ways to save money and still throw a fabulous wedding.
1. Trim the Guest List
One of the most expensive aspects of a wedding is food. Providing (at least) one filling meal plus a dessert is no easy task when there is a large party. An effective way of cutting costs is to cut-down the number of guests invited. With less people in attendance, food prices become less of an issue.
2. Get Help From Friends and Relatives
Whether its preparing snacks, designing invitations, or anything else, using family and friends to help prepare the wedding celebration is an amazing way to save money. Friends and family will usually be willing to lend a helping hand for your special day, there are probably even a few who possess unique skills that can genuinely help you a lot. Be kind when you ask them for help, and remember to return the favor in the future.
3. Bring Your Own Alcohol
If possible, find a reception site in which you can bring your own alcohol. Many venues have high markups on their liquor prices, so bringing your own will save a lot of money. Sometimes a corkage fee may still be in place, but that is a small investment that you should be more than willing to pay if it means you can bring your own booze.
4. Don't Assume a Buffet is Cheaper
While it may be tempting, making this assumption can possibly be a big mistake. Having a buffet means ordering a ton of food. Depending on the size of the party, food offered, and catering company, a buffet can turn into something more expensive than a served plate dinner. The solution here is to get estimates for both a buffet and plated meal to conclude which method is cheaper to do.
5. Need Music? Book a DJ, Not a Band
In today's world, finding a DJ is incredibly easy. Many of them perform at weddings and have plenty of experience doing so. Shop around for a DJ that will satisfy your needs. A huge advantage with a DJ is that they will be able to play anything you want them to, as opposed to a band which is only capable of knowing how to play so many songs. A band has other limitations as well, such as the number of instruments available to them. If possible, try seeing them live before you decide on them. Seeing a live show will give you a genuine idea of what to expect with that particular DJ. Another perk is that a DJ is only one mouth to feed whereas a band is many more.
6. Be Creative With the Centerpiece
Instead of ordering expensive flowers for every table, be original with your centerpiece ideas. There are many great alternatives to flowers that will be just as wonderful and save you tons of money. Consider asking a friend or relative for advice as well if you cannot think of a centerpiece you'd be happy with.
image at top retrieved from: abcnews.go.com